Concrete Garage Repair and Maintenance

Swansea, Carmarthen, Neath
Are you looking for concrete garage repair and maintenance in Swansea, Carmarthen or Neath? We offer Lidget Compton Prefabricated Garage maintenance throughout the local area.
Concrete charges always a great benefit for any homeowner to have. Let's take a closer look at the benefits of concrete garages and how they can be repaired and maintained.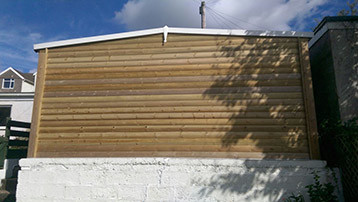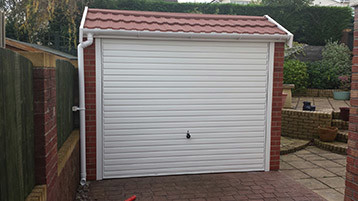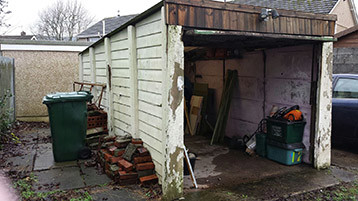 If you have a concrete garage at home, you will know just how versatile they are. Garages can be used as a working space, or as an additional storage space for garden tools, motorcycles and more.
Abertawe Sectional Buildings Ltd offer complete repair, maintenance and demolition of concrete garages. We supply and fit the following:
Having a concrete garage is a great way to add value to your property, which is why many homeowners choose to build an additional garage for their home.
If you're garage needs to be repaired, it is always a great benefit to working with an expert. Concrete garages are generally low maintenance. Concrete is a very popular choice when it comes to floors, especially in work areas and storage spaces.
But if any damage should occur, Abertawe Sectional Buildings Ltd will be the perfect person to handle your garage repairs.
Damage and wear and tear is especially common in those parts which are not concrete. This includes window and door frames, fascias, guttering etc.
Your concrete garage floor can be repaired in various ways, depending on the specific damage that was caused. In most cases, a resurfacing product will be applied, make your floor look fresh and brand.
This is also a very cost-effective way of preparing your garage floors. It is also recommended if you have cracks in your floor surface, and you want to repair them easily and cost effectively.
Concrete garages make for great working spaces. That's why it adds value to your property if you have a garage. You can also choose to build a garage for your home, or even add an additional space if you only have a single garage on your property.
Concrete is the perfect material choice, as this allows you to not only benefit from the durability but also to clean and strong look.
Abertawe Sectional Buildings Ltd are your first choice for repair, maintenance and demolition of concrete garages in Swansea. Please call Wayne Jeffreys today on 01792 772 740 or complete our contact form with your details.