Garage Re-roofing and Asbestos Services

Swansea, Carmarthen, Neath
When it comes to re-roofing your garage, specialist help is needed. Let's take a look at what these processes entails.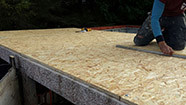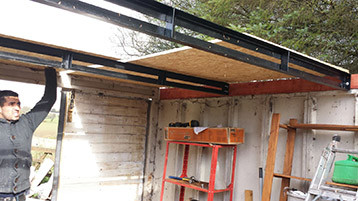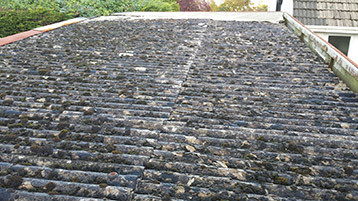 Garage roofing
Abertawe are experienced specialists in re roofing garages, sheds, workshops, outhouses, summer houses, lean to's, whether they are sectional concrete, brick built, timber, or steel.
Using "Plastisol" box profile, or tile effect galvanised, plastic coated steel sheets made in Wales by TATA GB LTD, rolled at Port Talbot in the South, and coated in Shotton in the North of Wales
This material is strong and long lasting and comes with a manufacturers guarantee of up to twenty five years, and comes in a choice of attractive colours, including a fully insulated option.
We can also re roof your building in cement fibre corrugated sheets, corrugated steel, felt, bitumen, or any other material that you prefer, with or without timber lining boards.
Rotten timber joists can also be renewed, along with rusty steel trusses and purlins, which can be re manufactured to replace the originals.
Fascia panels, bargeboards, gutter boards, lintels, rain water goods can also be renewed in timber or UPVC in a choice of colours, including white, black, solid brown, Rose wood, Oak effect etc.,
Most average sized garages can be de roofed, and re roofed within one working day, with no mess left behind, emptying the buildings is rarely necessary, we can work around the contents.
All types of low level re roofing, and roofing repair work undertaken. We have hundreds of satisfied customers all over South West Wales, testimonials are available on request.
Asbestos services
We undertake the safe and legal disposal of old asbestos roof sheets on behalf of our roofing customers at a reasonable cost.
We are licensed waste carriers, and we can undertake the safe and legal disposal of all the old materials removed during renovation work including flat or corrugated grey asbestos.
To save our customers money and inconvenience, we bring the material back to our premises. We store it under lock and key, then, when we have a sufficient amount, we engage a licensed contractor to take it away for us.
If you are looking for Garage Re-roofing or Asbestos removal Services in Swansea, Carmarthen, Neath get in touch today. Call 01792 772 740.