Sectional Concrete Fencing

Swansea, Carmarthen, Neath
Are you looking for Sectional Concrete Fencing in Swansea, Carmarthen or Neath?
As a homeowner, you may want to add a fence to your property, which is why the choice of material is very important. Let's take a closer look at concrete and why it is such a popular material.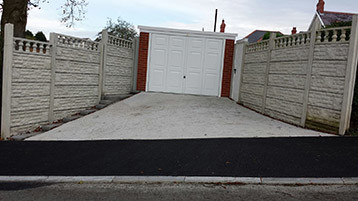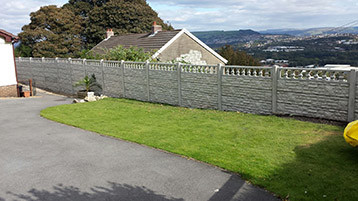 Concrete is undoubtedly one of the most popular materials when it comes to building long lasting structures at home. This is also perfect for building a fence around your property.
Concrete fences have become very popular as concrete is a durable and strong material to use. You can now have your fences not only look strong, but also provide an effective layer of security to your property.
Concrete fences are not only reserved for houses, as they can also be installed on business properties and even around estates.
There are various building methods when it comes to concrete fencing, and it depends on your unique requirements.
Sectional reinforced concrete makes for the perfect fencing solution. You can work with a fencing expert that can provide you with various finishes such as 'Rockstone' or 'Smoothwall'. This depends on your requirements, as well as a style that will fit the rest of your property.
Sectional concrete fencing can be erected on domestic or commercial properties. This will provide a modern and reliable fencing solution around the property.
You can complement your concrete fence with other features such as concrete walls and floors throughout your property. If you require Sectional Concrete Fencing get in touch today.
Concrete is very low maintenance and provides you with a cost-effective building solution. Please call Wayne Jeffreys today on 01792 772 740 or complete our contact form with your details.